Installation of new cable and internet system to be underway by summer | News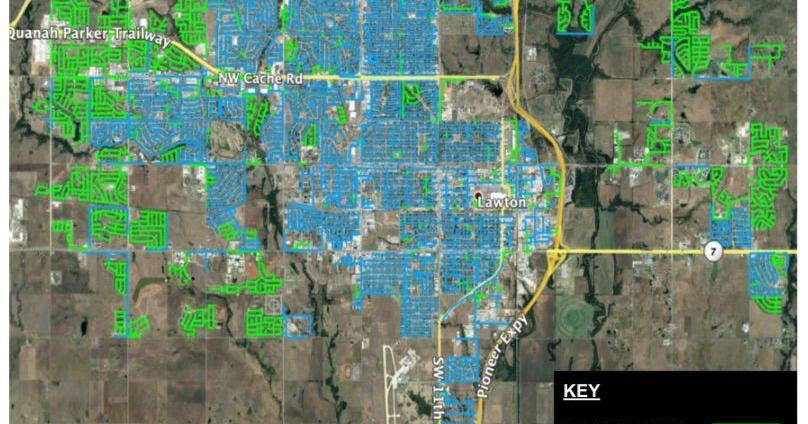 Construction is expected to be underway by June in the early neighborhoods of Lawton where Clarity Telecon's new cable and broadband internet will be installed.
City council members on Tuesday approved a non-exclusive franchise agreement with Clarity Telecon (dba Bluepeak), allowing the company to begin its plan to install the fiber optic network needed to support cable and internet. After the decision, Bluepeak said it expects to begin construction of the new network – which will include both overhead and underground lines – in 90 days.
Jesse Granger, director of communications for Bluepeak, said the construction will involve fiber internet and cable television services, meaning they will be available at the same time. Installation will begin in the western neighborhoods of Lawton, an area according to Bluepeak vice president of market development Desi Stoops that would have underground lines. Stoops told council members in December that aerial fiber would be installed primarily in central parts of Lawton, as part of an agreement with AEP-PSO to use its existing utility poles, while underground fiber would be installed primarily in East Lawton and Far West and South Lawton neighborhoods.
Granger said that while the exact timing of service availability depends on construction, Bluepeak hopes to bring Internet and cable service to Lawton's first neighborhoods by mid to late summer.
"We will offer the service to communities gradually, as parts of the network become operational, one or more neighborhoods at a time," he said, adding that residents interested in service options as they become available can register on hellobluepeak. com, so they can be added to a mailing list and receive updates.
While Bluepeak originally announced plans for a $30 million investment in Lawton to serve 29,000 households, that investment grew to $40 million and the number of households served to 40,000. Granger said the increase investment is correlated with the increase in Bluepeak's target audience of residents and businesses.
The plan is still to install 189 miles of aerial fiber and 144 miles of underground fiber, Granger said. Bluepeak said it expects installation to take two to three years. Under the terms of its franchise agreement with Lawton, at least half of the company's setup must be completed within two years. Stoops said the company's investment will also include a technology store that will employ 12 to 15 people and a storage yard for the infrastructure needed to complete overhead and underground facilities.
While the system is expected to be available to Fort Sill residents, Granger said the company hasn't entered into those discussions.
Bluepeak officials said the Lawton project is its biggest investment in Oklahoma. As of December, the company had deals with Enid, Perry, Stillwater, Elk City and Clinton, and has since added deals with Lawton, Bartlesville, Blackwell, Choctaw, Shawnee, Muskogee, Tonkawa and Pawhuska. The company inaugurated its Enid and Stillwater projects, with service planned in both communities in April. Work in Bartlesville is scheduled to begin this month, Granger said.